SURVIVORS
Faces of Life after the Holocaust
75 Portraits of Survivors Photographed by Martin Schoeller



UNESCO World Heritage Site Zollverein, Essen
---
The exhibition with Schoeller's haunting portraits of Holocaust survivors ended on 13 September 2020. About 40 000 visitors appreciate this project of memory.
The exhibition is now virtual availbale.

---
It is so important to undertake commemorative projects like this one. Whoever is still capable of telling their story should continue to do so. It is our obligation, in the name of the men, women and children who were murdered, to keep telling our stories.
Naftali Furst, survivor
On January 21, 2020, the German Chancellor Angela Merkel and the Prime Minister of the State of North Rhine-Westphalia Armin Laschet have inaugurated the exhibition "SURVIVORS. Faces of Life after the Holocaust", were staged in the Zollverein Coal Mine Industrial Complex in Essen, a UNESCO world heritage site. Marking the 75th anniversary of the liberation of the Auschwitz-Birkenau Concentration Camp, the exhibition was showcasing 75 haunting portraits of Holocaust survivors, photographed by Martin Schoeller. For this commemorative project, the internationally-acclaimed artist was collaborating with the World Holocaust Remembrance Center Yad Vashem in Jerusalem, its German Society of Friends, and with the Bonn-domiciled Foundation for Art and Culture. The portraits were being premièred in the Zollverein. Further touring venues are also being planned.
Preserving humanity and dignity under inhumane conditions:
This is the experience informing the larger-than-life, close-up portraits of the 75 survivors, which were taken in the Yad Vashem Memorial Center in Jerusalem, where Schoeller spent much time with his subjects in preparing the portraits. "I was raised in Germany", explains Martin Schoeller, who has lived in New York for many years. "I grew up with this incredible sense of guilt and shock, which lead me to question my own identity. How could people from my country commit these horrendous crimes? It is very scary to see what is happening in Europe right now, that anti-Semitism has come back so strongly. Now more than ever, I feel a great responsibility to fight anti-Semitism whenever I see it and to do whatever I can to make sure that something like the Holocaust can never happen again. I do think that people have a responsibility for their history. If everybody looked at their own history and tried to learn from it and then went on to use that knowledge to better themselves and to better society, ultimately, I think that is what will bring us all forward as human beings".
It is of profound importance both today and for future generations to gaze into these lined and weathered faces: For the portrayed subjects are among the few surviving contemporary eye-witnesses. Stripped of artifice, Schoeller's photographs serve as an enduring testament of the personal and collective history and convey the horrors of the Holocaust, as no words can.
Exhibition Folder Download
Download English press kit
Press pictures for download here (registration required).
ABOUT MARTIN SCHOELLER
Martin Schoeller, born in Munich in 1968, is one of the most prominent contemporary portrait photographers and is renowned for his close-up portraits. After studying photography at the Lette-Verein in Berlin and Hamburg, he worked as Annie Leibovitz's assistant from 1993 to 1996. Schoeller frequently collaborates with prestigious magazines, such as Rolling Stone, National Geographic, Time, GQ, Esquire, Entertainment Weekly, and New York Times Magazine. Like Richard Avedon before him, he also served as the New Yorker's editorial photographer. Schoeller's work can be seen around the world and is included in major collections.
Schoeller is famous for his 'big head' portrait photos: full-frontal, hyper-realistic close-ups of faces. He photographs all his subjects – whether public figures or anonymous individuals – in the same serial way, using special lighting and photographing in extreme close-up.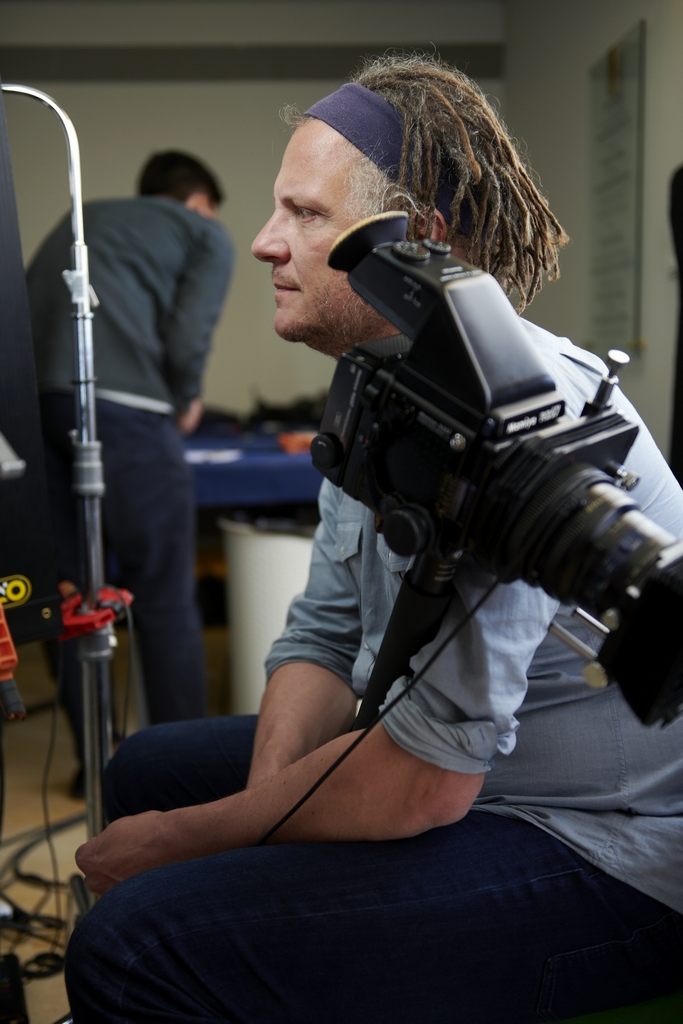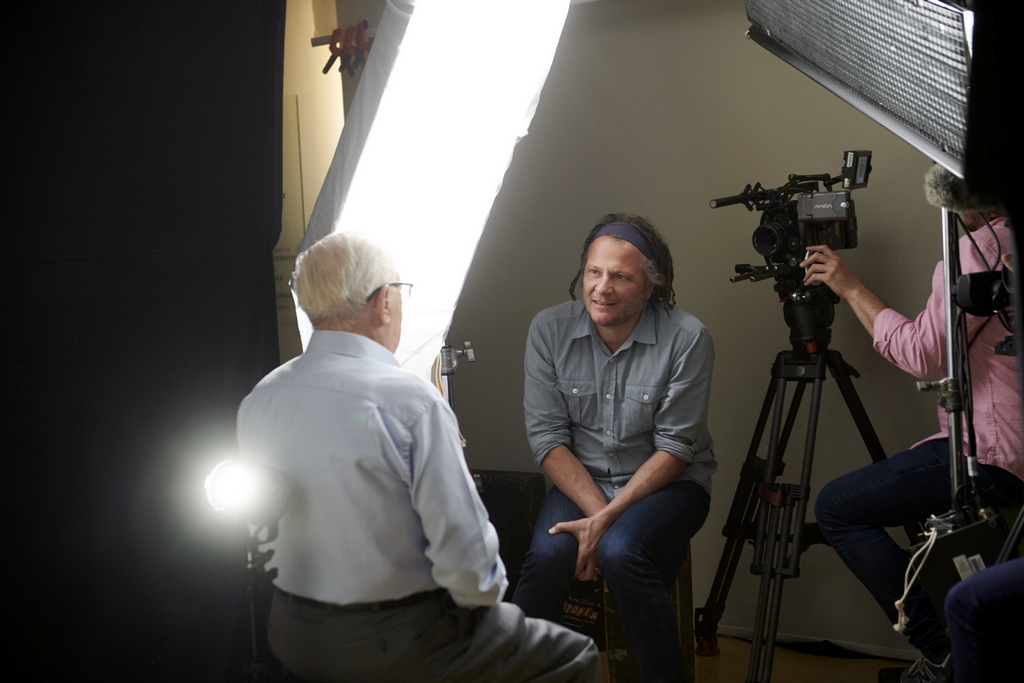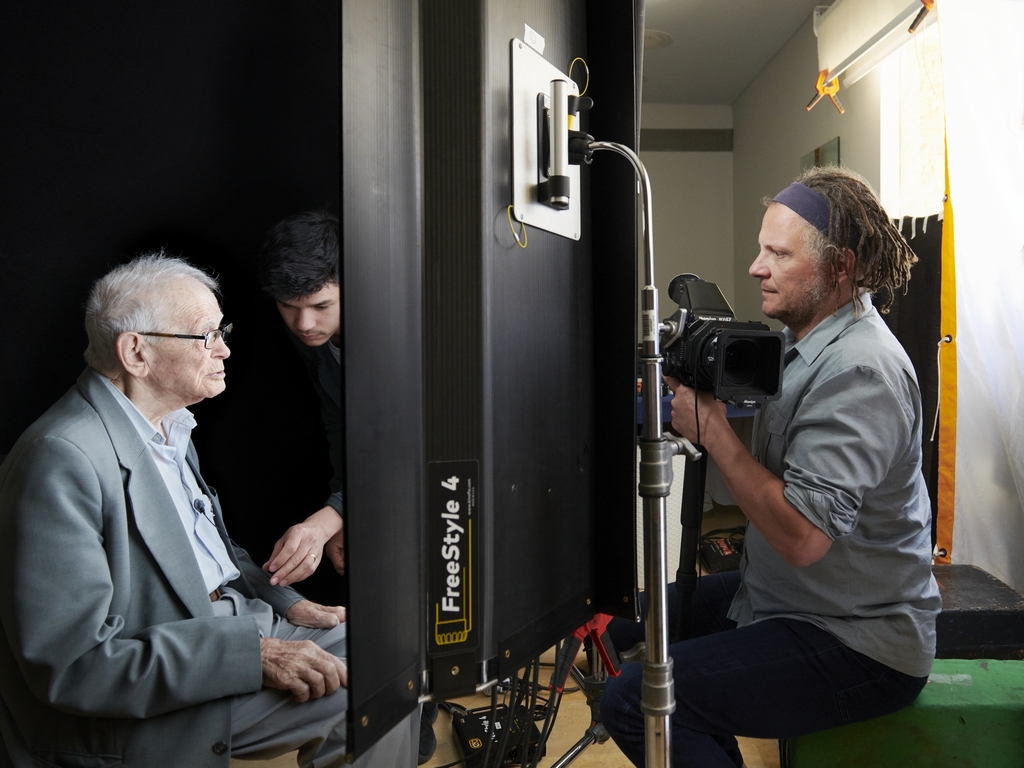 "SURVIVORS" is a project organised by the Bonn-domiciled Foundation for Art and Culture and the World Holocaust Remembrance Center Yad Vashem in cooperation with the Zollverein Foundation and the Ruhr Museum. Curators were Anke Degenhard and Vivian Uria. The project was initiated by the German Society of Friends of Yad Vashem under Kai Diekmann.
Accompanying the exhibition is a photobook published by Steidl Verlag, featuring the 75 portraits and their related biographies, together with a foreword by the former Federal German President Joachim Gauck.