>> 4th Bonn Art Project <<
Stephan Balkenhol's "Hommage an August Macke",  Hofgarten Bonn

Transforming Bonn into an 'urban museum'
Public art is direct, challenging and controversial. At the heart of a community's social space the artist is making a statement which is visible to all. A highly individual statement, which – as with any public pronouncement – automatically provokes approval and rejection. Yet viewers cannot avoid this art. And irrespective of their response to it: they will form an opinion.
Art in the public space is not conceived as a municipal facelift, but is a response to the question of how we wish to utilise the public space in the city we choose to live in. We welcome such a debate as it can help society to progress. (Walter Smerling, Artistic Director)
Markus Lüpertz, Beethoven, 2014
Stadtgarten / Alter Zoll
1st Bonn Art Project

Ludwig van Beethoven has been immortalised in countless portraits and monuments, which, with varying degrees of success, endeavour to represent his external appearance. Markus Lüpertz, in contrast, has adopted a very different approach: His Beethoven sculpture does not aspire to meet the conventional expectations of monuments, but is the sculptural projection of interiority, spirit and genius. The inaugural speaker at the ceremony Werner Müller referred to it as "revenge on the banal" – a characterisation, which appositely characterises Lüpertz's art in general and his "lounge-lizard" image in equal measure.
Every artist is engaged in a permanent struggle to find his own path, the perfect form, or the ideal tone. Beethoven did it. And Markus Lüpertz does it. His Beethoven is not a portrait in the traditional sense, but a "depiction" of the inner turmoil of a conflicted genius. The sculpture comprises two elements – a seated figure and a bust at its feet. The nude on the bench is muscular, and without arms; a powerful neck supporting a monumental head, whose face is gazing up into the heavens.
Tony Cragg, Mean Average, 2014
Remigiusplatz (City center)
2nd Bonn Art Project

Turned on their own axle, the seemingly organic forms spiral upwards, imbuing this sculpture with a semblance of vitality and life. They appear to be attempting to break free of the bronze – as Lüpertz pushes the possibilities of his material to their furthest limit. The sculpture does not offer a dominant viewpoint, and as one walks around it continually offers new perspectives. And depending on the position of the viewer, one can fleetingly discern human profiles in the sculpture which suddenly appear and vanish just as quickly as one moves further along.
Cragg has sited his self-contained, assured and purpose-free work of art in stark juxtaposition to the milling crowds, shops and cafés on the busy Remigiusplatz. And inexorably this monumental work seeks confrontation. "Artists in particular are responsible for the aesthetics of our surroundings", stresses Tony Cragg. "Almost everything around us, is, in its formal appearance, mediocre at best, and serves only economic interests, and is merely a function of the economy. Sculpture can assume a special role here. It can bring into the world new, previously unseen forms, and in so doing generate new ideas. And thus it also fulfils a political function."
Bernar Venet, ARC '89, 2016
B9 / Museumsmeile (Trajektknoten Helmut-Schmidt-Platz)
3rd Bonn Art Project

Resembling a vast open portal are two rows of arches, some 17 metres in height, which have been constructed from 42 tonnes of pre-rusted Corten steel. With this work, Venet has in principle created a suite of sculptures: for depending on the perspective and angle of the 14 arches, his arc alters so fundamentally as one walks around it, that one could be deceived into thinking that there are several sculptures on this site. As a highly visible landmark on one of Bonn's main traffic arteries, "ARC ´89" dominates the city's skyscape.
By choosing this location in the former government district, and by setting the arches at angle of 89 degrees, Venet is commemorating the collapse of the former GDR in 1989. The profound changes precipitated by the fall of the Wall also held far-reaching ramifications for the city of Bonn. In the re-unification of Germany the artist saw a challenge – but of a positive nature. Connotations such as openness to change, imagination and creativity, and the willingness to adopt fresh perspectives are all aspects which flowed into his work And this project was also informed by the vision of a united Europe; with a French artist having his sculpture assembled by a Hungarian steelwork company and installed in Germany's former capital city.
Stephan Balkenhol, Homage to August Macke, coming in September 2018
Hofgarten (near Akademisches Kunstmuseum)
4th Bonn Art Project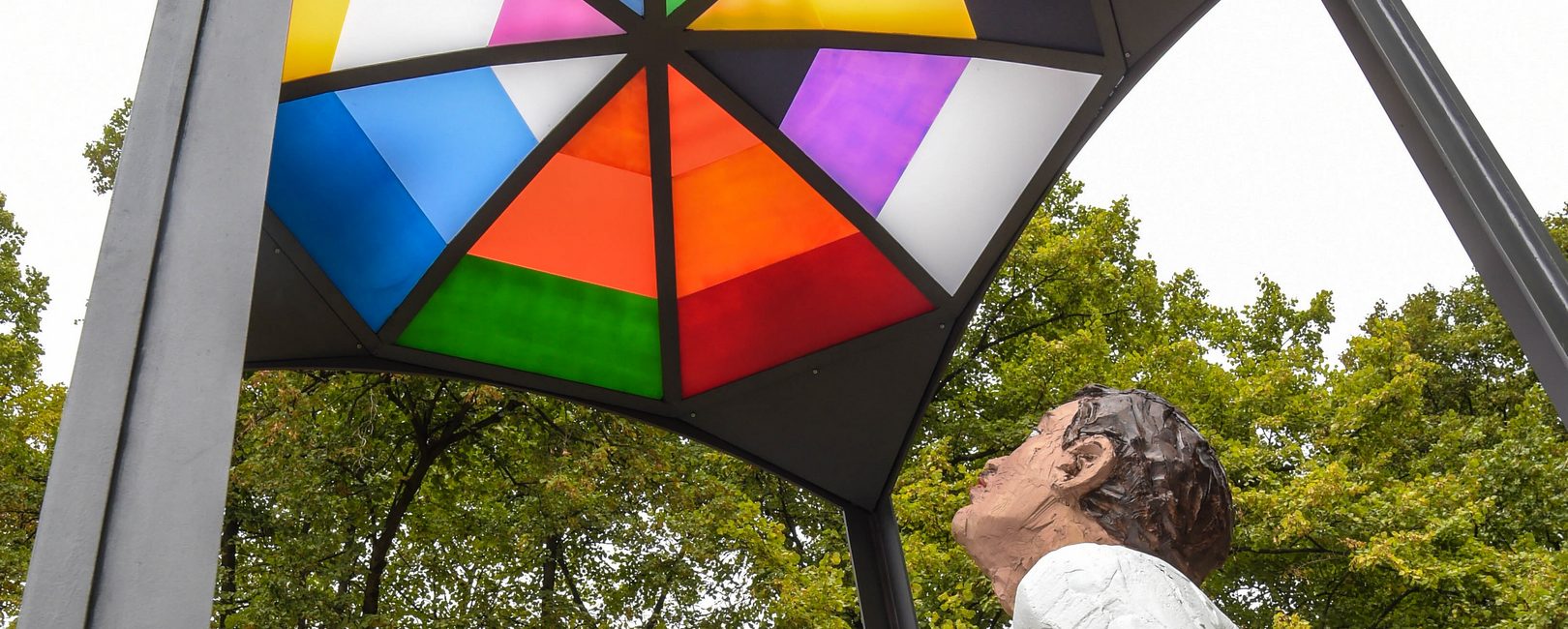 Stephan Balkenhol's "Homage to August Macke" comprises an approximately 4.5-metre-high, publicly accessible pavilion with a glass roof, inside of which stands an over-sized bronze sculpture. It is a prototype of Balkenhol's universe of figures. An ageless man clad in black trousers and a white shirt, exuding an inner tranquillity and devoid of any suggestion of movement or narrative attributes. Balkenhol's human figures are characteristically neutral and undefined, their quintessential core always remaining concealed. For Balkenhol is not seeking to commemorate August Macke through his physique but through his work. And thus the coloured sky is the actual centrepiece of the sculpture. As he gazes into the firmament, the figure is placing himself in relation to the world; here stands August Macke, painter, seeker. A does Stephan Balkenhol. An artist. A human being. An everyman. Thus Macke is a projection screen for myriad associations, rather than a mere representation.
Within the framework of the Bonn Art Project, the Foundation is planning to commission an acclaimed artist each year until 2030 to design a work for its public space – Bonn as an urban museum. The works are to be created and financed completely through commercial sponsorship, without state or municipal funding: private-sector commitment to publicly accessible art.