Since September 15, 2016, every child arriving in Germany as a refugee receives a gift – perhaps his or her first-ever own picture book.

"The Prince and the Dragon" explains everyday life in Germany from the perspective of young children. It is a welcome gesture to refugee families who want to get to know Germany, and the German language.

For parents additional insert texts are provided in Arabic language, Dari Farsi, French, Kurmanci, Pashto, Sorani, and Turkish. Free audiobook versions are available for download from this site.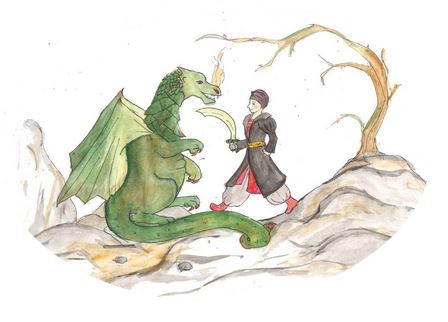 This pro bono project has been launched by the Holm Keller GmbH in cooperation with the Federal Employment Agency and the Deutsche Welle. Each federal state was responsible for securing its own sponsors. In the case of the State of North Rhine-Westphalia, the Foundation for Art and Culture – specifically Benno Garschina, Pitt Hoffmann and Walter Smerling – supported the project.
Audio books versions in nine languages are available for download free of charge at:  www.drachenprinz.com/audio.
For more comprehensive information on all aspects of the project, please visit: www.drachenprinz.com
https://www.stiftungkunst.de/kultur/wp-content/uploads/2016/09/Drachenprinz.jpg
588
931
Tina Rudolph
https://www.stiftungkunst.de/kultur/wp-content/uploads/skk_logo_q_pad_2-600x250.png
Tina Rudolph
2016-11-17 11:46:02
2016-11-17 17:20:31
A picture book as a welcome gift: The Dragon Prince